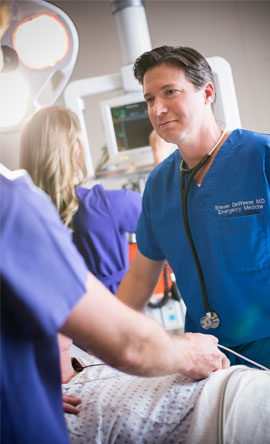 Our physicians in the Reno, NV area work at their partner hospitals and do not have separate office hours. If you need information from us about your visit, please seek that information as follows:
Billing
Northern Nevada Emergency Physicians
3030 NW Expressway, Ste. 1000 | Oklahoma City, OK 73112
800-225-0953 office
 405-682-1586 fax
Patient Records
Your hospital record is your official emergency visit record from the physician.  Please contact the hospital at which you sought care for those records.  The release of those records will be subject to the hospital's policies and compliance with state and federal laws.
Renown Regional Medical Center
1155 Mill Street
Reno, NV 89502
775-982-2790
Request Medical Records
Renown Children's ER
1155 Mill Street
Reno, NV 89502
775-982-2790
Request Medical Records
Renown South Meadows Medical Center
10101 Double R Blvd.
Reno, NV 89521
775-982-2790
Request Medical Records
Additional Paperwork –
We strive to complete all paperwork relating to your visit at the time of your care.  If your insurance or employer requires additional paperwork that is not already present in your medical record, this involves both administrative time and physician time to complete.  In order to provide 24-hour a day care, our physicians work varied work schedules and may not be on the schedule in a regular manner.  If you have any such requests, please contact us and allow at least two weeks for completion.
Prescription Refills –

Please note that we are unable to provide medication refills from your previous visit.  In order to obtain a refill, please contact your primary care physician.